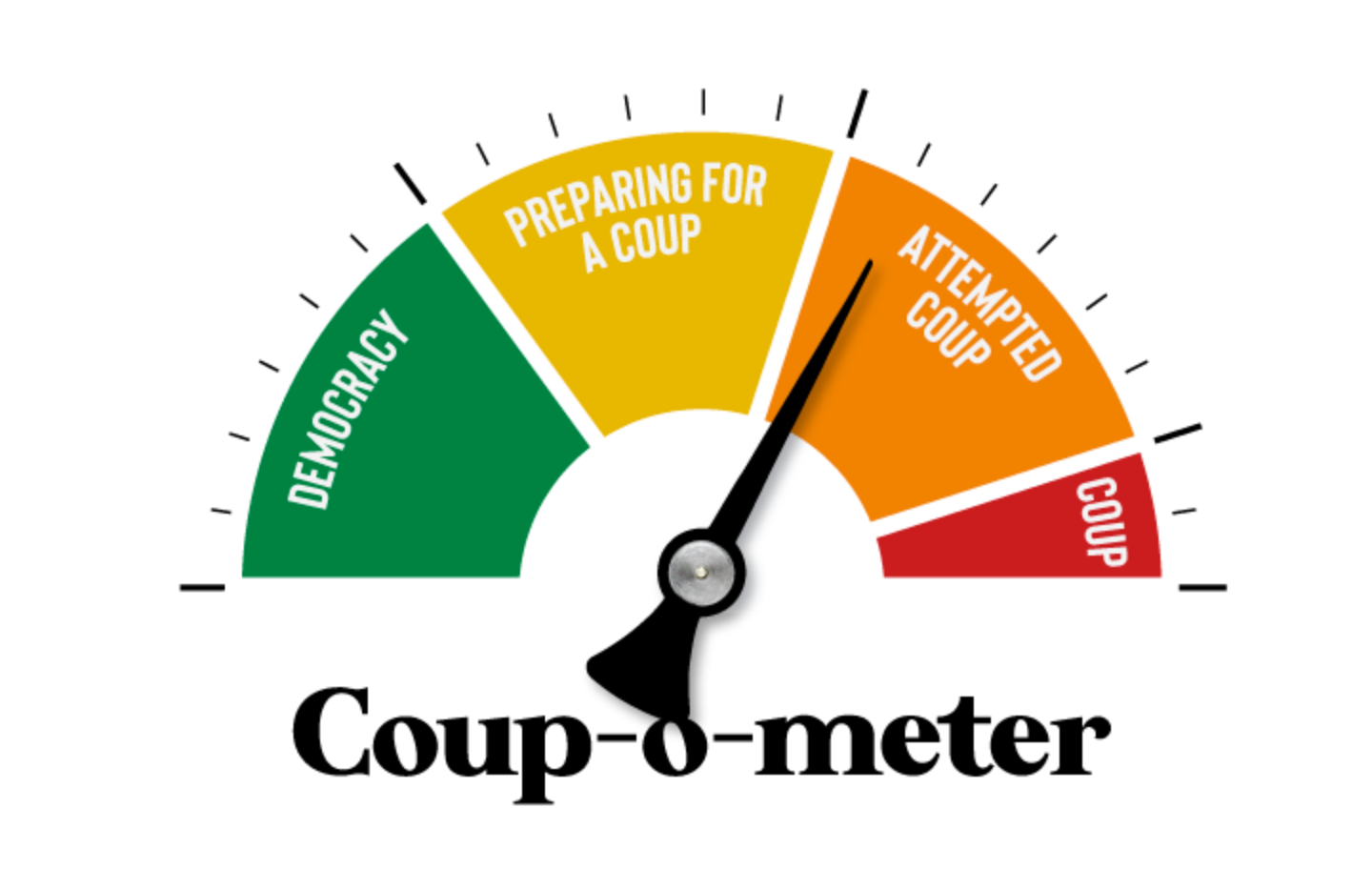 Image description: a multi-colored meter, with the needle pointing to the orange area "attempted coup", labled Coup-o-meter.  Screenshot from Is this a coup?
What happened yesterday in DC and statehouses around the country is certainly part of an attempted coup, but it's just one event so needs its own name ... a lot of people are describing it as a "protest," but that de-legitimizes real protest – and gives an excuse for government to crack down on protest and dissent.  Calling it "domestic terrorism" is also problematic.   So for now I'll follow the lead of AP, Washington Post, the New York Times and others and call it a mob.
From a tech perspective, the assault on the Capitol really highlights the role of social networks in organizing events like this.  Social network companies like Twitter, Facebook, and Reddit have always had a love affair with white supremacicsts, so on the one hand it's great that Facebook, Twitter, Youtube, and Snapchat have suspended Trump's account, at least temporarily, and it would also be great if Facebook had shut down a lot of the groups planning these actions.  On the other hand, as Sarah J. Jackson, Moya Bailey and Brooke Foucault Welles discuss in #HashtagActivism, social network activism can also be used in positive ways, and it's critical to defend that – in the upcoming legislative debates on Section 230, and also pressuring companies to continue to allow activism.
Social network companies also haven't taken much action to cut down disinformation.  The whole "Stop the Steal" narrative (pushed by the majority of Congressional Republicans as well as Trump, Giuliani, and their cronies) laid the groundwork for this.  QAnon conspiracy theories played a role as well.  As Julia Carrie Wong said on Twitter, tech/disinfo/extremism reporters are (justifiably) furious bc "they saw this coming, they said this was coming, and they were accused of not respecting free speech or being hall monitors or whatever."  
And with that, on to the links – a couple of older relevant articles as well as some from yesterday and today.
Claudia Flores-Saviaga, Brian C. Keegan, Saiph Savage, International 12th AAAI Conference on Web and Social Media (ICWSM 2018), via arxiv.org
We performed a quantitative longitudinal analysis of more than 16 million comments from one of the most popular and disruptive political trolling communities, the subreddit /r/The_Donald (T_D). We use T_D as a lens to understand participation and collective action within these deviant spaces.
Jane Lytvynenko and Molly Hensley-Clancy, Buzzfeed
The mob that forced Congress to flee organized on both obscure and mainstream sites.
Cristina Tardáguila and Harrison Mantas on poynter.org
Fact-checkers and researchers consider the Capitol breach a political event fueled by conspiracy theories and falsehoods
Bellingcat
Once again, this dangerous and eclectic conspiracy is in the spotlight. It has come a long way since its birth on a forum barely three years ago.
Queenie Wong on CNET
For the first time, Twitter says Trump's account will be locked for 12 hours. Facebook goes further.
Abby Ohlheiser and Eileen Guo on MIT Technology Review
He's causing death and destruction with his lies," says Danielle Citron. "The public's interest is to take him off."
Kate Cox in Ars Technica
You don't need fancy technology to identify folks who livestream their crimes.
Ryan Mac in Buzzfeed
"What excuse did we use not to ban him this time?"
Roger McNamee in Wired
Facebook, Twitter, and YouTube have spent years fomenting and enabling yesterday's violence at the Capitol. Policymakers need to do something about it.
Jessie Daniels in Dame Magazine
Social media is a haven for hate groups, who use the instantaneous medium to organize and troll. So why do the platforms continue to protect them and not those they abuse