Microsoft's annual shareholder meeting is coming up, and the proxy statements include five excellent shareholder resolutions.   One of them is on a topic I've written a lot about here: prohibiting sales of facial recognition technology to governments.  Unsurprisingly, I support it!  As Councilmember Jeanne Kohl-Welles and Jennifer Lee of ACLU of Washington said earlier this year in King County government must turn its back on facial recognition technology
The potential dangers inherent in government use of this technology are immense and far outweigh any potential benefit. Facial recognition technology must be banned, not only because it fuels discriminatory surveillance, but also because it jeopardizes everyone's privacy and civil liberties. With this technology, government agencies can track individuals' movements and contacts without their knowledge or consent, chilling free speech and free association, undermining press freedom and threatening the free exercise of religion.
It probably won't pass.  Microsoft's Board recommends voting against all the shareholder resolutions including this one, and large institutional investors usually follow the Board.  A similar Amazon resolution in 2019 won just 2% of shareholder vote and that's probably most likely the likely outcome here.  
UPDATE: As expected, the facial recognition resolution only got 4% of the vote.
Still, shareholder resolutions are an effective part of the multifront campaign to ban facial recognition.   The 2019 Amazon resolution was a key stepping stone in the multi-year fight to stop Amazon, IBM, and Microsoft from selling face recognition to law enforcement.  Just last month Microsoft agreed to human rights review in deals with law enforcement and government in response to another shareholder resolution, since withdrawn.   And Stanley Shikuma, Savannah Sly, and Jennifer Lee of the Tech Equity Coalition will have three minutes to speak in favor of this resolution at the board meeting on November 30, which is great!
I'll talk more about the facial recognition resolution below, but there are four other resolutions on the proxy statement so first let's look at the full list.
Five synergistic resolutions
I also support the other resolutions, all at the intersections of justice and equity with technology.   Each is very worthwhile in its own right, and the full slate  has a lot of synergies.
RESOLVED: Shareholders request Microsoft report on median pay gaps across race and gender, including associated policy, reputational, competitive, and operational risks, and risks related to recruiting and retaining diverse talent. The report should be prepared at reasonable cost, omitting proprietary information, litigation strategy and legal compliance information.
RESOLVED: Shareholders urge the Board of Directors to release a transparency report (at reasonable expense, omitting confidential or privileged information) to shareholders assessing the effectiveness of the company's workplace sexual harassment policies, including the results of any comprehensive, independent audit/investigations, analysis of policies and practices, and commitments to create a safe, inclusive work environment.
RESOLVED: Shareholders request that the Board of Directors generally prohibit sales of facial recognition technology to all government entities, and to disclose any exceptions made, in the board and management's discretion.
RESOLVED: Shareholders request that the Board of Directors prepare a report on how implementation of Microsoft's commitment to the Fair Chance Business Pledge ("the Pledge") has advanced progress toward eliminating racial discrimination at Microsoft. The report, prepared at reasonable cost and omitting proprietary information and published publicly within one year, should evaluate the risk of racial discrimination that may result from the use of criminal background checks in hiring and employment decisions.
RESOLVED: Shareholders request that the Board of Directors oversee an evaluation and issue a public report, at reasonable cost and omitting proprietary information, describing if, and how, Microsoft's direct and indirect lobbying activities align with company policies and principles on artificial intelligence, public policy, human rights, and racial justice, and how the company plans to mitigate risks created by any misalignment.
UPDATE: #2 passed, with  78% of the vote.  #1 and #5 got 40% and 38% respectively, surprisingly good showings.  Microsoft shareholders approve resolution calling for new insights into sexual harassment cases, on Geekwire, has more.
The view from the board room?
Microsoft's Board of Directors (including their CEO Satya Nadella) recommends voting against all of these.   Huh.  Does this align with company policies and principles on artificial intelligence, public policy, human rights, and racial justice? Nope.  No wonder they're against #5!
The Board's recommendations also don't align with Microsoft's corporate values like "accountability." or their diversity and inclusion statement's claim that "we believe in the transformative power of engaging many different perspectives," or their corporate social responsibility (CSR) commitments like "unequivocally support the fundamental rights of people, from defending democracy, to addressing systemic racial injustice and inequity, to protecting human rights"  and  "earn trust".   Funny how that works.
The Board has their reasons of course.  A few themes come up in the company's responses to all of the resolutions
Microsoft has made public "commitments" and disclosed some information (or at least plans to) although less than is being asked for, so all the resolutions asking for reporting are "unnecessary."   In their response to the Pay Equity resolution, for example, Microsoft admits they are "well aware significantly more work needs to be done" but "does not believe pay gap disclosure would further advance our commitment or ongoing efforts."    
Microsoft does positive things in all these areas.   Which they do, but that's only part of the story, and not really what the resolutions are about.  With several of the resolutions though the list of "positive things Microsoft does" is the bulk of the response.
The requests in each of the resolutions for plans to evaluate or mitigate risk aren't even worth responding to.  Seriously, look at the company's responses, they don't even discuss "risk" even though it's specifically mentioned in the resolution!
Personally, I don't find the Board's responses particularly persuasive.  As a Microsoft shareholder (I worked there from 1999-2007, first in Microsoft Research and then as GM of Strategy Development in MSN, and still own some stock) I'm voting YES of all of five them.  If you're a shareholder, I encourage you to vote YES on all five shareholder resolutions as well.
Hey wait a second!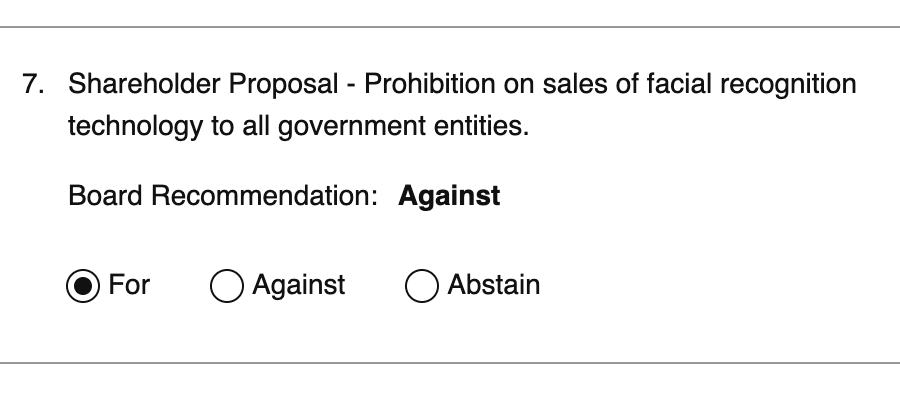 Microsoft goes farthest in opposing the facial recognition resolution, which it bluntly says "does not advance the interests of Microsoft, its shareholders, or other stakeholders."   Why?  Well for one thing they've made public "commitments", and they've done a lot of positive things!  Also:
This proposal would impose a blunt prohibition that would deny public agencies the ability to deploy facial recognition technology in societally beneficial use cases.
Hey wait a second, that's not what the resolution says!  It explictly allows exceptions, it just asks the Board to disclose them.  Luke Stark's helpful analogy that facial recognition is like plutonium, incredibly toxic but with a few beneficial usages, is a good lens to look at this through. There may be exceptions, but tost of the time, spraying plutonium should be prohibited.  
Of course some of the exceptions may be lucrative, and the Board wants Microsoft to be able to make money helping governments spray people with plutonium in "societally beneficial use cases."  The resolution allows that; they just have to disclose what they're doing.  Given how toxic facial recognition is, and how strong the evidence is that it's harmful, that seems pretty reasonable to me!  
In the "societally beneficial use cases" where Microsoft's helping governments spray plutonium, the company should indeed disclose that they're doing it.  The human rights resolution They should also be ready to describe the "risk profiles," how the safeguards are "calibrated," and why it's in the interests of all the "stakeholders" – including the ones who are being sprayed with plutonium.
Stay tuned for more
All of these resolutions are part of longer-term battles.  In Arjuna Capital's statement for resolution #2 (sexual harassment), they talk about the 2012 class action lawsuit from almost 300 women employees.   #1, pay equity, has a history as well: Microsoft was sued by Black employees in a class action in the early 2000s, narrowly avoided a class action suit by women employees on gender inequity, and just last year settled with the Department of Labor over allegations of racial discrimination.  
Similarly, the facial recognition resolution is only the latest skirmish in the interlocking multi-year fights over facial recognition and privacy.  Resolution #5 (lobbying) has some of the backstory:
In 2020, Microsoft committed not to sell facial recognition to police "until there is a strong national law grounded in human rights,"7 and it has urged governments to consider "civilian oversight and accountability" of facial recognition.8 However, Microsoft lobbies for and testified in support of laws that enable police use of facial recognition and undermine such local accountability efforts.9 Last year, a Microsoft employee – who is also a Washington State Senator – prime sponsored10 a weak, industry-backed state facial recognition bill, which was strongly opposed by a large coalition of privacy advocates, racial justice advocates, and consumer rights organizations.11 Contradicting Microsoft's claim that the Washington bill "offers protections for civil liberties,"12 privacy expert Jennifer Lee said Microsoft's bill "purports to put safeguards...but does just the opposite."
I was part of that large coalition opposing the 2020 facial recognition bill, and the bad privacy bill that Microsoft also supported but failed to pass.  In 2021, the Microsoft employee / State Senator opposed even holding a hearing on a facial recognition moratorium bill, and also once again co-sponsored the Bad Washington Privacy Act (which once again Microsoft supported and once again did not pass). Microsoft's put a lot of energy into"direct and indirect lobbying activities" as part of these battles, in Washington and across the country.  As we get ready for the 2022 legislative session, and it's a very good question how well these activities align with the company's stated principles and policy commitments.  
So even though Microsoft's Board will almost certainly fend off the resolutions at this year's meeting, the issue isn't going away.  Once the legislative session ends, activist investors will start planning for next year's shareholder meeting; and if the legislature doesn't act, there's starting to be talk about a potential statewide initiative banning facial recognition.  Stay tuned for more!
Links